News
2011-02-16
Search Engine Optimisation : Appearing on Page 1 of Google
What is Google?
Google is a search engine which is used by people to find relevant information/websites for almost anything.
What is Search Engine Optimisation?
Search Engine Optimisation refers to the process of improving your website's ranking under organic search results. Organic being the opposite of paid adverts, being found when people Google (search) for products and services and not your business name.
Try it!
Visit http://www.google.co.za
Google the service which your business offers and note the following:
Eg: Cape Town Laminated Flooring
The following screen clipping will appear: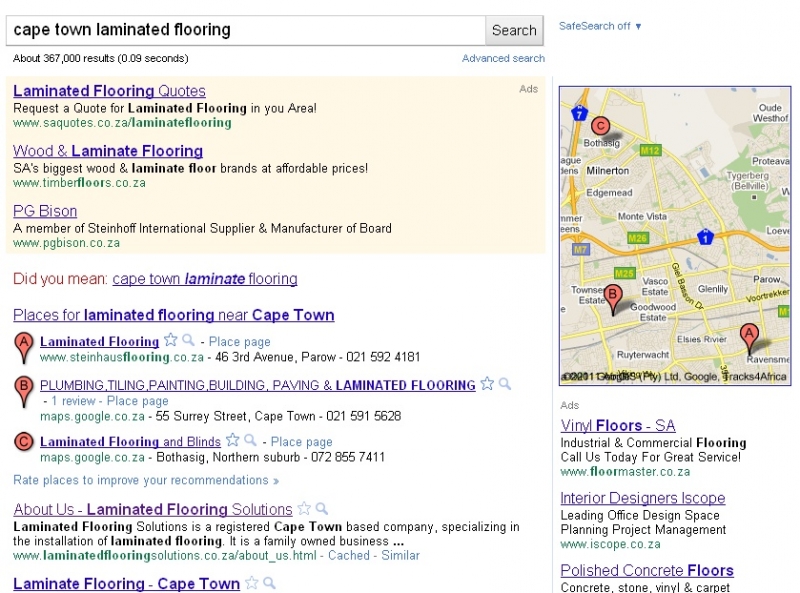 Google Paid Ads
The top listings and listing on the right hand side of the page are paid Google adverts. (That is how Google makes it money.) To find out how paid Google Ads work visit Google Adwords. Kwikwap now also offers Google Adword Account Management Services.
Google Places / Maps
Lately also, when including the geographical area of your search, Google Places on Google Maps also seem to appear right at the top of search results. To list on Google Maps or Google Places is free so you can not ignore it. Especially when the results appear at the top of search results!
Below the paid adverts are the websites which in the opinion of Google has the most informative website on the particular subject.
One Page Summary of SEO factors
Top 10 Positive Factors
<![if !supportLists]>1. <![endif]>Keyword Use in Title Tag
<![if !supportLists]>2. <![endif]>Global Link Popularity of Site
<![if !supportLists]>3. <![endif]>Anchor Text of Inbound Link
<![if !supportLists]>4. <![endif]>Age of Site
<![if !supportLists]>5. <![endif]>Link Popularity within the Site's internal link structure
<![if !supportLists]>6. <![endif]>Topical Relevance of Inbound Links
<![if !supportLists]>7. <![endif]>Link Popularity of Site in Topical Community
<![if !supportLists]>8. <![endif]>Keyword Use in Body Text
<![if !supportLists]>9. <![endif]>Global Link Popularity of Linking Site
<![if !supportLists]>10. <![endif]>Topical Relationship of Linking Page
Top 5 Negative Factors
<![if !supportLists]>1. <![endif]>Server is Often Inaccessible to search engine robots
<![if !supportLists]>2. <![endif]>Content Very Similar or Duplicate of Existing Content in the Index
<![if !supportLists]>3. <![endif]>External Links to Low Quality/Spamming sites
<![if !supportLists]>4. <![endif]>Duplicate Title/Meta Tags on Many pages
<![if !supportLists]>5. <![endif]>Overuse of Targeted Keywords (Stuffing / Spamming)
Most Controversial Factors
Manual Authority/Weight Given to Site by Google
Relevance of Site's Primary Subject
Participation in Link Schemes or Link farms
Duplicate Title/Meta Tags on Many pages
Global Link Popularity of Linking site
Quality of the Document Content as measured algorithmically
Domain Extension of Linking Site (.co.za .org .com .co.uk etc)
Get Help On WhatsApp Now